There are several different ways to get around in Second Life™ and for most of these, there are several ways to achieve the same effect as well. The main ways of getting around are:
Walking and running
Most people walk in Second Life by using the arrow keys on their keyboard. The up key moves you forward, the down key moves you backwards, left and right turn you in their respective directions. If you wish to strafe (move sideways whilst not changing the way you face - imagine a tennis player moving along the baseline) then you can hold down shift and press the left or right arrow key to move in that direction.

In addition to this method, if your chat bar is closed you can use the A, S, D and W keys, and shift for strafing. A and D are left and right, S is back and W is forwards. People from some gaming environments may prefer this. If you prefer this method, you may also like to alter your preferences to make it easier. Edit>Preferences (or Cntl-P) will bring up the preferences window (pictured). The Text Chat tab is the image shown, and the second check box in Chat Options is Close chat after hitting return. This will mean your chat bar closes whenever you hit return so you can use the letter keys to direct movement easily. If you take this option, you will also find that hitting return with the chat bar closed opens it immediately, so to chat "Hi there!" you would actually press return, then type Hi there! then press return to both say it and close the chat bar.

The final way to get around is using the movement controls. These may be on by default in some versions of the Second Life client software. If you wish to try this method and can't see the panel, you can turn it on via the View menu, and choosing Movement Controls. The left-hand six arrows duplicate the walking controls - strafe left and right are the straight arrows, turn left and right are the curved arrows, forward and backward are the solid up and down arrows. The other arrows are for use when flying, and move you higher and lower.
Running is rarely used in Second Life: if you want to get somewhere quickly it is more normal to teleport or fly. Nevertheless running is available and may be useful in regions where flying is prohibited. Cntl-R or World>Always Run will turn run mode on and off. In addition if you double-tap the up arrow or W you start running in some versions of the client.
---
Flying
Flying, conveniently, uses all the same keys and options as walking and running. The arrow keys, A, S, D and W, and the shift keys all do as they do when walking. It, does, however use two extra keys: page up and page down for those that like moving with their arrows, and E and C for those that like the keyboard for movement. Those who use the movement controls will use the dashed arrows. Page up, E or the up arrow all move you up, while Page down, C or the down arrow all move you down.

You can start flying in several ways. The movement controls and the main client both have a Fly button - on the main client it is slightly to the left of centre at the bottom and pressing this will start you flying. If you use the arrow keys the home key will start you flying, as will the F key if you use the keyboard. Finally, if you go to Preferences>Input &Camera tab and make sure that Auto Fly Options>Fly/land on holding up/down is checked you can start flying by holding the up key (whichever of them you use) for a few seconds, and you will land automatically when you fly down into the ground.
If you don't want to land this way, you can simply turn flying off (use the same keys or buttons) and fall. Falling is rarely dangerous in Second Life, although it isn't very dignified.
---
Teleporting
Teleporting, often abbreviated to tp, is the easiest way to cover large distances in Second Life. Historically there have been days when teleporting is unreliable, but in general it works well. There are several ways you can teleport:
Teleport home
Teleport to landmark
Teleport from map
Teleport to a friend (or a friend to you
Teleport via SLURL or secondlife:// url
Teleport from Search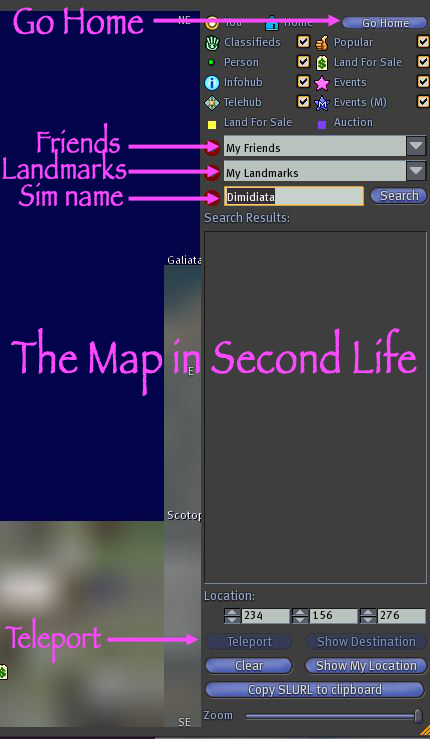 Teleporting home requires that you set a home location. You must do this on land that you own, or on land that a group to which you belong controls or owns where you have the relevant permissions. You set your home location via World>Set Home To Here. If you cannot set home in the current location, you will get an error message. If you expect to be able to, but it is on group land, check that you have the relevant group active for setting home. To actually tp home there are three methods you can use. You can use World>Teleport Home, Cntl-Shift-H or you can open the map via the Map button and click the Go Home button. They all achieve the same result - a fast teleport home. This is worth remembering if you end up somewhere you consider dangerous or unpleasant, as there is no way to unintentionally block a tp.
Teleporting to a landmark requires having a landmark. You may be given a landmark by a friend, or by an object, buy items containing landmarks or similar, or create your own (although some places will prevent you from making a landmark there, but this rare). If you wish to create a landmark, you use World>Create Landmark Here. There is no keyboard shortcut. Once you have a landmark, however you have obtained it, there are two ways you can use it. You can either open your inventory and find the landmark, then click it - this will teleport you directly there. You can also open the map, and use the landmarks drop-down to choose amongst your landmarks. Whilst you may use this method at first you will probably acquire too many landmarks for this to be viable in the long run. If you want to examine a landmark you need to right click it in your inventory and choose About Landmark from the menu. This will open a small window with some details of the landmark and its target and buttons to teleport instantly or show on the map.
To teleport from the Map you press the map button (or Cntl-M to open the map. If you can see somewhere on the map you wish to go, you can double click there to tp instantly. You can also search the map, e.g. by typing a sim name into the lower of the three search boxes, or by using the drop-downs to search through your landmarks or to find a friend who allows you to see their location (this is off by default). When you find someone or somewhere in this fashion you can teleport by pressing the Teleport button.
You can offer, or people can offer you, a teleport. Offering a teleport to someone will be covered in the friends section. When they offer you a teleport you will see a blue box in the top right of your screen saying, usually "Eloise Pasteur has offered to teleport you to his/her location" or similar. If you click on the OK button you will be teleported to them.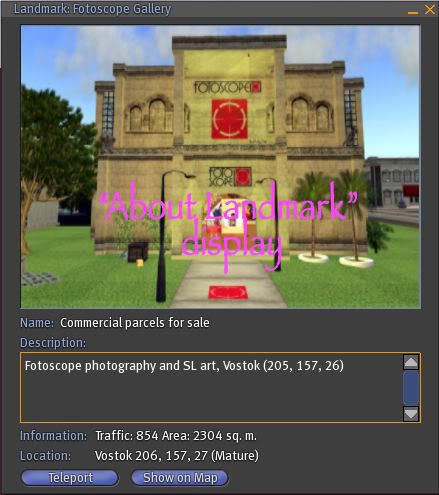 People will offer you, particularly in emails and on websites, SLURLs (Second Life URLs) and within Second Life you may see the far less commonly used secondlife:// format of link. These will be followed by a sim name and some coordinates. For example http://slurl.com/secondlife/Liverpool %20University%20Port/214/203/0. These will, if you are outside Second Life, open your client and log you in at that location if possible, or if you are in Second Life they will open something like a landmark window and allow you to teleport via that.
Finally there is teleport from Search. Search is covered in more detail elsewhere, but if you search and find a sign-post icon next to the result it is a link to a place. Clicking the amber name will take you through to some details about that place, and there is a Teleport button there that will teleport you.
---
Extra information and fun stuff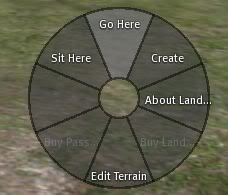 Although rarely used, the up and down buttons have functions whilst walking or standing as well: the up button will make you jump, the down button will make you crouch down.
If you are sat down and you use the movement controls you will find that this causes your camera to move. This can be distracting, or cool, depending on what you are trying to do. Hitting escape twice (or once if you the keyboard to move) will centre your camera back on you - it reverts the view to normal. Once you stand up and move the camera should swing back to its normal position over your shoulder.
If you can see the ground (and only the ground, if you can see prims disguised as ground you get a different option) you can right click it and choose "Go Here" from the 12 o'clock position in the pie menu. This will, as you might expect make you walk over there. Choosing "Sit Here" will make you walk over and sit down - but it is not very precise you sit somewhere near the spot you choose but not that close.
Falling is rarely dangerous in Second Life, but damage can be turned on (look for a heart icon at the top of the screen) in which case falling or bumping into things hurts, and can kill you. Being underwater in Second Life never causes harm, although you will find your range of view is vastly reduced.
---
I am not in any way affiliated with Linden Lab. This site advertises my work within their virtual environment.

The terms Second Life, Linden Lab and SL are trademarks belonging to Linden Lab. No infringement of their trademark is intended. Usage here is nominative.